2023 Exhibitor Applications Are Open!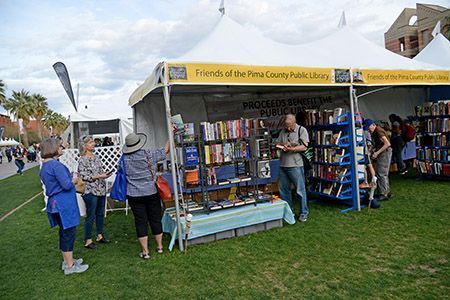 Exhibitor Registration is now open for the 2023 Tucson Festival of Books to be held March 4 and 5, 2023! Your space can be reserved on a first-come, first-served basis; you must have a valid literacy connection and adhere to the rules outlined in the Exhibitors Handbook! This is Tucson's favorite public event!
Exhibiting at the 2023 Festival
The Tucson Festival of Books welcomes exhibitors from literary and educational organizations to participate in the Festival. In a regular year, over 250 booths line the UA Mall. Registration for Exhibitor booth, will be accepted on a first-come, first-served basis. Specific information about exhibiting at the Festival will be provided through the registration process.
All details related to exhibiting are sent via email. Be sure @TucsonFestivalofBooks.org is added to your accepted email addresses so you receive information in a timely fashion. Registration will begin September 6.