2024 Food & Beverage Vending Applications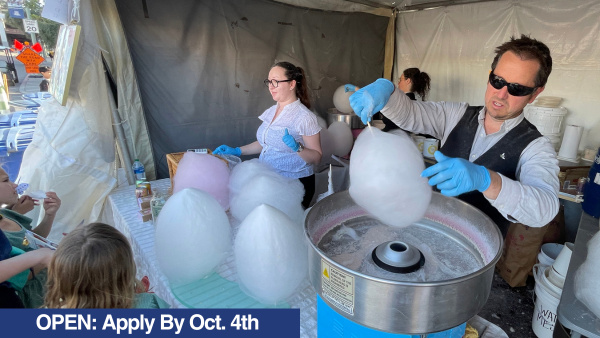 Applications for Food and Snack Vendors for the 2024 TFOB are being accepted until Friday, October 20 at 5:00pm. A limited number of food, beverage and snack booths are available during Festival weekend which will take place on Saturday, March 9 & Sunday, March 10, 2024 from 9:30am-5:30pm each day. Due to the high volume of interest we have experienced, we strongly recommend completing the application process early as the time-stamp on the application is considered in the review process.
Our goal is to offer a variety of food, beverage and snack options sold at reasonable prices that can be served quickly during high-volume periods. Unfortunately, not every company that applies to participate in the Festival will be invited to serve as a vendor. The application process is comprehensive and specific.
The Food & Beverage Committee will review all submissions that complete the application in-full and meet all deadlines. Meeting the initial criteria does not guarantee a vendor an invitation to participate in the Festival.
Follow these simple steps to apply:
1. Enter the Food & Beverage Application System
2. Read and agree to the Food & Beverage Vendor Terms & Conditions
3. Familiarize yourself with the Food & Beverage Vendor Handbook. All food vendors are expected to comply with Health Department code.
4. Complete requested information.
5. Applications will be reviewed by committee in October/November. Those vendors invited to participate in the Festival will have until 5pm on Friday, December 15 to pay and submit the required certificate of insurance.
6. A vendor that does not pay by the deadline forfeits their position and one of the wait-listed groups will be offered the opportunity to fill the space.
7. Wait-listed vendors are not prioritized; if a selected vendor does not pay, we replace that vendor (meal / snack / beverage) with a comparable vendor from the wait-list.
8. Booth assignments are made when all booth fees have been paid in full, usually some time in January.
Thank you so much for your interest! We look forward to enjoying your Food and Beverages at the 15th TFOB!
To proceed to the Food & Beverage Vendor Application System, enter here