COVID 19 Precautions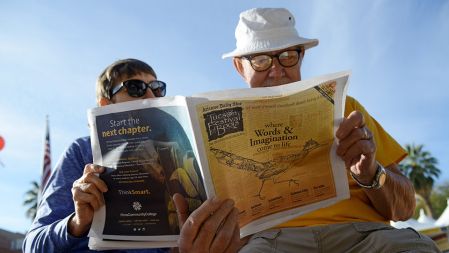 The Tucson Festival of Books takes COVID mitigation efforts in the community seriously and asks the community for partnership in helping stop the spread. Our partner, the University of Arizona, has done an exceptional job of limiting the spread of COVID 19 on campus through their mitigation efforts and we will be using their event protocols for the 2023 Tucson Festival of Books. We anticipate these protocols may change as the infection rate in the community changes and ask that you keep an eye out for updates.
To read the University of Arizona's full mitigation protocols please use the following links:
General Information: https://covid19.arizona.edu/
Face Coverings: https://covid19.arizona.edu/face-coverings
Events & Gatherings (including the Tucson Festival of Books): https://covid19.arizona.edu/reentry-plan/events
Frequently Asked Questions: https://covid19.arizona.edu/faq
The Friday evening author dinner may have additional COVID safety requirements. If you have tickets to the dinner, please contact your sponsor committee representative for more information.