New Imagination Friday on 2/17/23 with Michaela Goade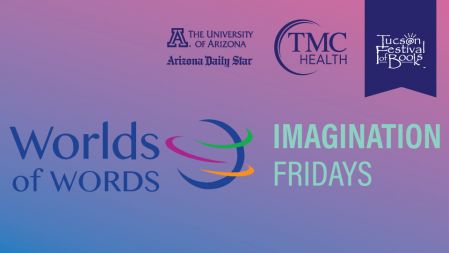 Meeting an author or illustrator is transformational for children as readers. Watching children's excitement in meeting the creator of a well-loved book or finding a new favorite has always been one of the most rewarding aspects of the Tucson Festival of Books. Worlds of Words at the University of Arizona is partnering with the festival to present a monthly experience with authors and illustrators. These presentations, occurring one Friday a month from 1:00 - 1:45pm, will be available virtually for both classrooms and children at home.
February 17, 2023 - Join us to meet Michaela Goade, illustrator of "We Are Water Protectors," winner of the Caldecott medal. Michaela is the first Indigenous illustrator to win this award. We are celebrating her book in the Big Read initiative due to its focus on water as the first medicine that affects and connects all of us. When a black snake threatens to destroy the Earth and poison the water, one young water protector takes a stance to defend Earth's most sacred resource. Click here to register.
September 30 - Join us to meet Meg Medina, the author of the Newbery Medal winner, "Merci Suárez Changes Gears." Meg is sharing her newest middle-grade novel, "Merci Suárez Plays It Cool," in which Merci faces school drama and changing family dynamics. When one of the popular kids starts talking with her at school, she faces difficult decisions on who has her loyalty as a friend.Meg Medina is a Cuban American author who writes for readers of all ages. Meg will talk about her new book, share the process of creating the story, and invite children to write about their own experiences. Click here to register. Click here to watch a livestream of the event.
October 28 - Join us to meet Ana Aranda, the author/illustrator of "Our Day of the Dead Celebration." This new picturebook is about a family who gathers to enjoy favorite foods, play games, and tell stories to celebrate the lives of family members for Día de los Muertos. Aranda's whimsical, bright illustrations are full of joy and love, and the story is a powerful reminder that our loved ones are always with us. Ana will share her new book and invite children to draw with her. She will also answer questions. Click here to register. Click here to watch a livestream of the event.
November 10 - Join us to meet Adam Rex and Laura Park, the creators of "Digestion: The Musical." This hilarious picturebook is about the most basic process of the human body—digesting food! Candy has finally made it into the human body and her "big break" is to be successfully digested. The scientific process of digestion is told through a musical with Candy as a small-town kid who wants to make it big and includes cameos for body parts that help transform food from ingredients to nutrition. An epic adventure through the human body, from bite to bottom. Adam and Laura will share their new book, invite children to draw, and answer questions. Click here to register. Click here to watch a livestream of the event.