Adiba U. Nelson
---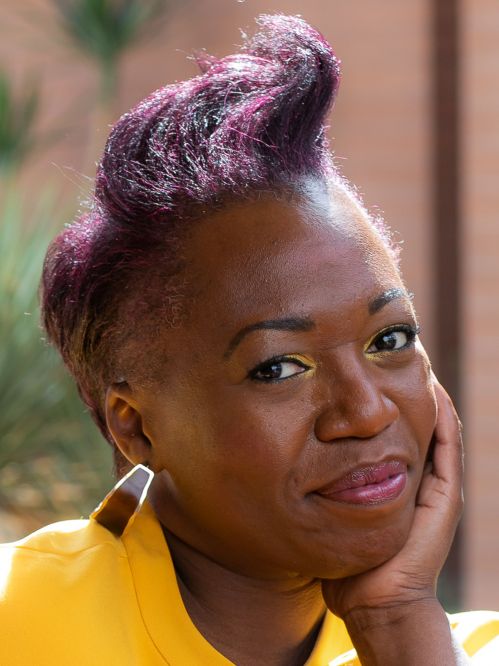 Kathleen Dreier Photography
Adiba Nelson is the author of "Ain't That A Mother," the memoir that Essence, Bustle, Ms. Magazine and Shondaland all hailed as a "must read," and the subject of the Emmy-winning documentary, "The Full Nelson." She is also a retired burlesque performer, disability rights advocate/activist, freelance journalist and very tired mom!
In 2013, she wrote and self-published her first children's book, "Meet ClaraBelle Blue" after not being able to find a children's book that adequately and appropriately represented her daughter (disabled, Black). Since then Nelson has led numerous workshops and given keynote addresses around the country for parents, educators and education professionals/paraprofessionals, focusing on DEIA from a disability perspective.
In 2017, Nelson delivered her first TEDx talk (Skating Downhil: The Art of Claiming Your Life) to a sold-out crowd, and has since joined the NPR-affiliate Arizona Public Media as a regular contributor on Arizona Spotlight, spoken at the Smithsonin Institute National Museum of Afrian American History and Culture, and led a memoir master class in sunny San Juan, Puerto Rico, at the request of the poet dubbed the "Maya Angelou of the Millennial Generation," Azure Antoinette.
Awards: Royal Dragonfly Award - Children's Book:Speial Needs
Communities: Arizona Author, Tucsonan, LGBTQ+, African American, Hispanic or Latinx, Person with a Disability, Parent of a child with a disabiity
---
Speaking Your Own Truth
In this session, authors Adiba Nelson, Patricia Grayhall and Laura Cathcart Robbins will share share their own life journeys, and where they discovered self-worth, inner strength, acceptance and understanding.
Koffler Room 218 (Seats 142, Wheelchair accessible)

Sat, Mar 4, 2:30 pm - 3:30 pm
Memoir / Essays / Creative Nonfiction
Signing area: Sales & Signing Area - UA BookStore Tent (on Mall) (following presentation)

Panelists:
Laura Cathcart Robbins
,
Patricia Grayhall
,
Adiba Nelson
Moderator: Ann Boland
Chillona Pero Chingona
Authors and mujeres luchonas share their stories of resiliency, identity and getting it done.
Nuestras Raíces Stage (Seats 150)

Sun, Mar 5, 2:30 pm - 3:30 pm
Nuestras Raices
Signing area: Pima County Public Library/Nuestras Raíces/Craft Tent & Signing Area (following presentation)

Panelists:
Adiba Nelson
,
Yasmín Ramírez
,
Erika Sánchez
Moderator: Brie Chillious
---
Book:
Ain't That a Mother
Postpartum, Palsy, and Everything in Between
Memoir / Essays / Creative Nonfiction
Blackstone Publishing
May 2022
ISBN 9781799932260
246 pages

---