Ibi Zoboi (she/her/hers)
---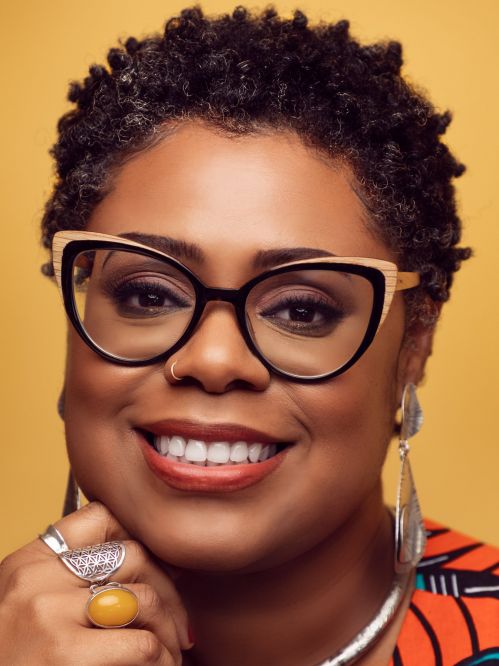 Nicole Mondestin
Ibi Zoboi is the New York Times bestselling author of "American Street," a National Book Award Finalist; "PRIDE," a contemporary remix of Jane Austen's Pride and Prejudice; and "My Life as an Ice Cream Sandwich," her middle-grade debut. She is also the co-author of the Walter Award and L.A. Times Book Prize-winning "Punching the Air" with prison reform activist Dr. Yusef Salaam of the Exonerated Five, which was also shortlisted for the U.K.'s Yoto Carnegie Medal.
Zoboi is the editor of "Black Enough: Stories of Being Young and Black In America." Her debut picture book, "The People Remember," received a Coretta Scott King Book Honor Award. Her most recent books are "Star Child: A Biographical Constellation of Octavia Estelle Butler" and "Okoye to the People: A Black Panther Novel" for Marvel. Her forthcoming YA novel "Nigeria Jones" comes out May 9, 2023.
Zoboi has appeared on CBS This Morning and The Reid Out alongside Yusef Salaam, and on PBS's Book View Now. Her writing has been published in The New York Times Book Review, the Horn Book Magazine and The Rumpus, among others. As an educator, she was the recipient of several grants from the Brooklyn Arts Council for her community-based programs for teen girls in both Brooklyn and Haiti. She's worked for arts organizations such as Teachers & Writers Collaborative and Community Word Project as a writer-in-residence and teaching artist in New York City public schools. Born in Port-au-Prince, Haiti, and raised in New York City, Zoboi lives in Maplewood, N.J. with her husband and their three children.
Awards: Coretta Scott King Book Honor Award, Walter Award, National Book Award Finalist, L.A. Times Book Prize, Yoto Carnegie Medal Shortlist
Communities: African American, Haitian
---
Warrior Girls Who Make Their Mark: National Book Award
Teen girls who are willing to live their truths often face misunderstanding and prejudice but take a stance of resistance to fight for justice regardless of consequences. Ibi Zoboi and Sonora Reyes are National Book Award Finalists for "American Street" and "The Lesbiana's Guide to Catholic School," while Sabaa Tahir is the 2022 winner of the National Book Award for "All My Rage."
Teen & Author Stage (Seats 105)

Sat, Mar 4, 11:30 am - 12:30 pm
Children / Teens
Signing area: Sales & Signing Area - Integrated Learning Center (following presentation)

Panelists:
Sonora Reyes
,
Sabaa Tahir
,
Ibi Zoboi
Moderator: Sybil Durand
Trailblazers: Women Forging the Way
Strong women who forge pathways to challenge societal injustices are trailblazers who provide children with inspiration and strategies for considering their own commitment to action. From labor movements to women's basketball to authors breaking boundaries, these books use a range of writing styles and book designs to captivate readers.
Education Room 353 (Seats 92, Wheelchair accessible)

Sat, Mar 4, 2:30 pm - 3:30 pm
Children / Teens
Signing area: Signing Area - Children (following presentation)

Panelists:
Andrew Maraniss
,
Molly Mendoza
,
Aida Salazar
,
Ibi Zoboi
Moderator: Ruth McKoy Lowery
Teen Worlds: A Carousel of Young Adult Authors
Meet a bunch of YA authors in 60 minutes and enter teen worlds of fantasy, mystery and complicated relationships. Each author will be seated at a table to talk with a small group about their newest book. Every eight minutes the authors will rotate to a new table in our version of author speed-dating.
College of Education Kiva 211 (Seats 200)

Sun, Mar 5, 10:00 am - 11:00 am
Children / Teens
Signing area: Signing Area - Children (following presentation)

Panelists:
Nick Brooks
,
Alexene Farol Follmuth
,
Kathleen Glasgow
,
E. Lockhart
,
Sofia Lapuente
,
Kami Larsen
,
Liz Lawson
,
Sunya Mara
,
Jarrod Shusterman
,
Ibi Zoboi
Moderators: Marie LeJeune, Tracy Smiles
---
Books:
Okoye to the People
A Black Panther Novel
Children / Teens
Marvel Press
March 2022
ISBN 9781368046978
272 pages
$17.99
Buy now
---
American Street
Children / Teens
HarperCollins
May 2018
ISBN 9780062473059
352 pages

---