Volunteer for the 2023 Festival!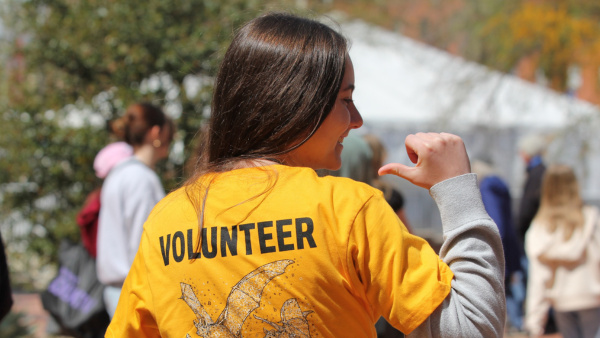 We depend on our amazing volunteers to make Tucson Festival of Books the premier book festival for authors, exhibitors and festival-goers from throughout the state and across the country. The positive impact on the community is due to the dedicated individuals who assist in making the Festival friendly and welcoming to all of our guests.
We offer nearly 2,000 opportunities so there is something for every volunteer...we hope you will join us! No experience is necessary...all you need is a warm smile and a helpful attitude! Sign up for a shift, or two, or the whole weekend! To recognize your contributions, all volunteers will be provided with the special, limited edition 2023 volunteer t-shirt!
If you are interested in becoming a volunteer, provide your contact information and we will send you an email when volunteer registration becomes available.
Join Our Volunteer List
Friend of the Festival Volunteers
Friend of the Festival members are entitled to select volunteer positions in advance of the general public. Many benefits exist to enhance the festival experience for those who become Friends.
More Information
Join the Volunteer Networking Team!
Help spread the word by filling out the form below to join the TFOB Volunteer Networking team.
We'll send you info/updates regarding our volunteer needs.
Share with your groups - work, family, friends, social media ...
Ask those in your networks to share ...
Take pride as you watch all TFOB volunteer needs be fulfilled!
Any help will be much appreciated.
Join Our Networking Team