Erika L. Sánchez
---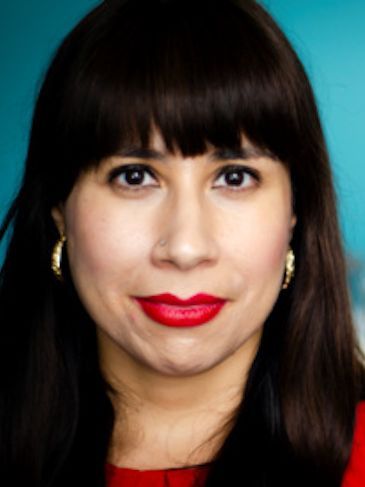 Adriana Diaz
Erika Sanchez is a Mexican American poet, novelist and essayist. Her debut poetry collection, Lessons on Expulsion, was a finalist for the PEN Open Book Award. Her debut young adult novel, "I Am Not Your Perfect Mexican Daughter," was a NY Times bestseller and a National Book Award finalist. It is now being made into a film directed by America Ferrera. Sanchez was a 2017-2019 Princeton Arts Fello, a 2018 recipient of the 21st Century Award from the Chicago Public Library Foundation, and a 2019 recipient of the National Endowment for the Arts Fellowship. She is the Sor Juana Ines de la Cruz Chair at DePaul University in Chicago.
She was the sex and love advice columnist for Cosmopolitan for Latinas for three years, and her writing has appeared in Rolling Stone, Salon, and the Paris Review. Since she was a twelve-year-old nerd in giant bifocals and embroidered vests, Erika has dreamed of writing complex, empowering stories about girls of color--what she wanted to read as a young adult.
Awards: National Book Award Finalist
Communities: LGBTQ+, Hispanic or Latinx
---
Writing from the Heart
Three escritoras poderosas share their raw and untethered stories from their family roots.
Nuestras Raíces Stage (Seats 150)

Sat, Mar 4, 10:00 am - 11:00 am
Nuestras Raices
Signing area: Pima County Public Library/Nuestras Raíces/Craft Tent & Signing Area (following presentation)

Panelists:
Yasmín Ramírez
,
Ingrid Rojas Contreras
,
Erika Sánchez
Moderator: Brenda Limon-Condit
Telling Poignant Personal Stories
What brings us together? What helps us survive? Can we carve out joy in hardships, find humor in challenges? Ross Gay and Erika Sanchez, both acclaimed essayists and poets, share heartfelt stories that will make you laugh, maybe shed a tear or two, and perhaps renew your hope that the world can be a better place.
Koffler Room 204 (Seats 300, Wheelchair accessible)

Sat, Mar 4, 1:00 pm - 2:00 pm
Memoir / Essays / Creative Nonfiction
Signing area: Sales & Signing Area - UA BookStore Tent (on Mall) (following presentation)

Panelists:
Ross Gay
,
Erika Sánchez
Moderator: Robin Shambach
Chillona Pero Chingona
Authors and mujeres luchonas share their stories of resiliency, identity and getting it done.
Nuestras Raíces Stage (Seats 150)

Sun, Mar 5, 2:30 pm - 3:30 pm
Nuestras Raices
Signing area: Pima County Public Library/Nuestras Raíces/Craft Tent & Signing Area (following presentation)

Panelists:
Adiba Nelson
,
Yasmín Ramírez
,
Erika Sánchez
Moderator: Brie Chillious
---
Books:
Crying in the Bathroom
A Memoir
Nuestras Raices
Penguin
July 2022
ISBN 9780593296936
256 pages

---
I Am Not Your Perfect Mexican Daughter
Nuestras Raices
Random House Children's Books
March 2019
ISBN 9781524700515
368 pages

---