Annalee Newitz (they/them)
---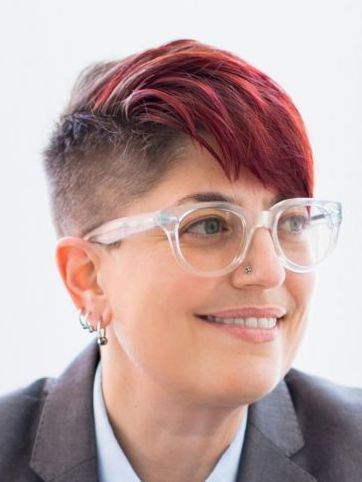 by Sarah Deragon
Annalee Newitz writes science fiction and nonfiction. They are the author of "Four Lost Cities: A Secret History of the Urban Age" and "Scatter, Adapt and Remember: How Humans Will Survive a Mass Extinction," which was a finalist for the LA Times Book Prize in science. They are also the author of the novels "The Terraformers," "The Future of Another Timeline" and "Autonomous," which won the Lambda Literary Award. As a journalist, they are a writer for The New York Times and elsewhere, and have a monthly column in New Scientist. They have published in The Washington Post, Slate, Popular Science, Ars Technica, The New Yorker and The Atlantic, among others. They are the co-host of the Hugo Award-winning podcast Our Opinions Are Correct. Previously, they were the founder of io9 and served as the editor-in-chief of Gizmodo.
Awards: Hugo Award, Lambda literary award, Sturgeon Award, Sidewise Award
Communities: LGBTQ+, Gender Nonconforming
---
Alternative Realities
These writers have taken our reality and shaped it serve their own purposes, whether it's through time manipulation or travel to other universes. Find out why manipulating reality makes for a great story!
Integrated Learning Center Room 150 (Seats 155, Wheelchair accessible)

Sat, Mar 4, 2:30 pm - 3:30 pm
Sci-Fi / Fantasy / Horror
Signing area: Sales & Signing Area - Integrated Learning Center (following presentation)

Panelists:
Annalee Newitz
,
Josh Riedel
Moderator: Kirby Kim
Making It Up
Novelists don't get their ideas fully formed or from any one place in particular. Their stories evolve over time. They make things up as they go along. Since the creative process has no rules, do authors create rules of their own? How do they know how far they can go?
UA Mall Tent (Seats 250)

Sun, Mar 5, 4:00 pm - 5:00 pm
Sci-Fi / Fantasy / Horror
Signing area: Sales & Signing Area - Central Mall (following presentation)

Panelists:
Susan Dennard
,
Annalee Newitz
,
Veronica Roth
,
Paul Tremblay
Moderator: John Muñoz
---
Books:
The Terraformers
Sci-Fi / Fantasy / Horror
Tor Publishing Group
January 2023
ISBN 9781250228017
352 pages

---
The Future of Another Timeline
Sci-Fi / Fantasy / Horror
Tom Doherty Associates
October 2020
ISBN 9780765392114
368 pages

---