Joanna Ruth Meyer (she/her/hers)
---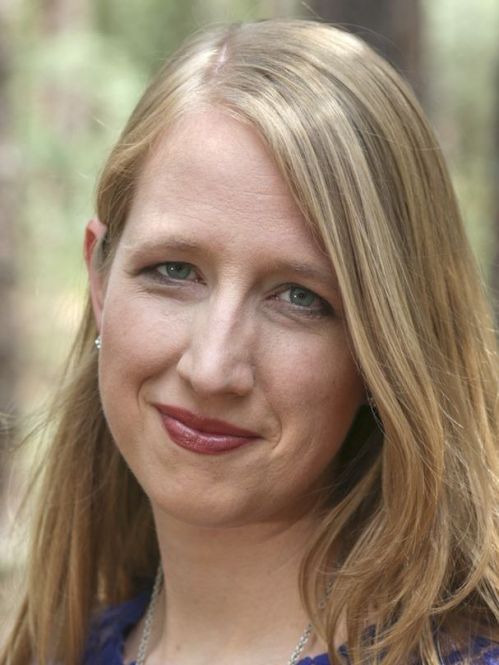 Joanna Ruth Meyer is the author of the critically-acclaimed "Echo North" and its companion novel "Wind Daughter," as well as the fairy-tale inspired "Into the Heartless Wood," and the duology "Beneath the Haunting Sea" and "Beyond the Shadowed Earth." She writes stories about fierce teens finding their place in the world, fighting to change their fate, save the ones they love, or carve out a path to redemption. Meyer lives with her dear husband and son, two stripey cats, and one enormous grand piano in Mesa, Ariz. As often as she can, she escapes the desert heat and heads north to the mountains, where the woods are always waiting.
Communities: Arizona Author
---
YA Workshop: Building Fantasy Worlds
A writing workshop on how to build rich, believable fantasy worlds in YA literature. Come to learn about writing YA fantasy through worldbuilding
UA Main Library Indoor Amphitheater (Seats 75, Wheelchair accessible)
Sun, Mar 5, 11:30 am - 12:30 pm
Children / Teens
Signing area: Sales & Signing Area - Integrated Learning Center (following presentation)

Panelist:
Joanna Ruth Meyer
Moderator: T. Gail Pritchard
Dark Fantasy: Grief, Love and the Unknown
Fantasies are often grand adventures of quests to save the world, but sometimes those adventures are journeys of grief and love in a struggle with the unknown. Guadalupe Garcia McCall tells a gothic Mexican tale of family trauma and healing while Joanna Ruth Meyer's fantasy revolves around a teen's identity and agency and Sunya Mara invites readers into a storm-devastated fantasy world.
Teen & Author Stage (Seats 105)

Sun, Mar 5, 2:30 pm - 3:30 pm
Children / Teens
Signing area: Sales & Signing Area - Integrated Learning Center (following presentation)

Panelists:
Guadalupe Garcia McCall
,
Sunya Mara
,
Joanna Ruth Meyer
Moderator: Kaitlin Murphy
---
Books:
Wind Daughter
Children / Teens
Page Street Publishing
July 2022
ISBN 9781645674368
352 pages

---
Into the Heartless Wood
Children / Teens
Page Street Publishing
July 2022
ISBN 9781645676386
400 pages

---