Bob West
---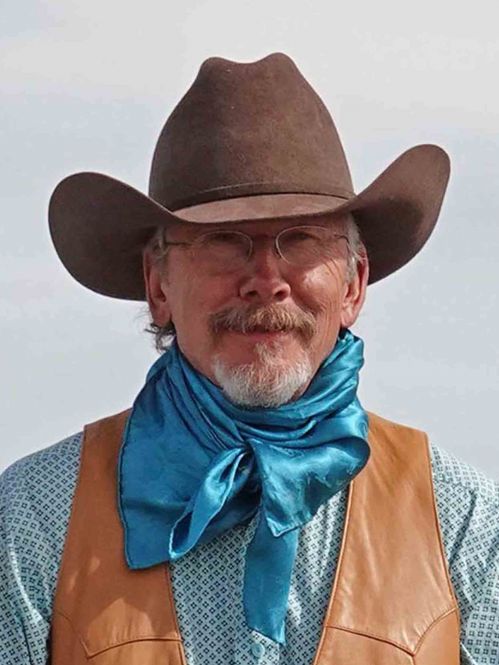 A third-generation Coloradoan, Bob West is an award-winning architect with 35 years of design and architectural firm management experience. He retired in 2015 from OZ Architecture, one of Colorado's most prestigious architectural firms. He is also an accomplished cattle rancher and cowboy, now raising Scottish Highland cattle on his northern Colorado ranch.
"Twenty Miles of Fence - Blueprint of a Cowboy" recounts a decade of transformation, when West decided to escape the pretense of his unfulfilling life and to become, quite simply, a cowboy. A cowboy? That old cliche' about biting off more than you can chew fittingly describes the lessons learned when Bob and his family bought the Devil's Washtub Ranch, a working cattle ranch in Wyoming. West soon discovered that ownership of two horses housed in a stylish stable on five acres near the yuppie haven of Boulder, Colo., does not equal 20 miles of fence, 3,200 deeded acres, 400 BLM (Bureau of Land Management) acres, 154 head of Black Angus, two and a half miles of the North Laramie River ... and what would become for him, the very best of times. Times laded with dripping-with-sweat labor, and, unhappily, a few bloodstained calamities. Little did he know how those years would test him, inspire him, and lead him back to his true character.
---
Going Off Grid
Today we will hear several different perspectives of the American West and our authors' approach writing their reflections about this iconic part of the United States.
Koffler Room 218 (Seats 142, Wheelchair accessible)

Sat, Mar 4, 10:00 am - 11:00 am
Memoir / Essays / Creative Nonfiction
Signing area: Sales & Signing Area - UA BookStore Tent (on Mall) (following presentation)

Panelists:
Ted Conover
,
Janet Fogg
,
Bob West
,
Tom Zoellner
Moderator: Mary Holden
Workshop: The Art of Co-Authoring
Writing with a buddy can start off fun and end up with as a headache. Janet Fogg and Bob West teach us how to work cooperatively with co-authors.
UA Main Library 254/Main Floor (Seats 50, Wheelchair accessible)

Sun, Mar 5, 2:30 pm - 3:30 pm
Memoir / Essays / Creative Nonfiction
Signing area: Sales & Signing Area - Integrated Learning Center (following presentation)

Panelists:
Janet Fogg
,
Bob West
---
Book:
Twenty Miles of Fence
Blueprint of a Cowboy
Memoir / Essays / Creative Nonfiction
University of Nebraska Press
November 2022
ISBN 9781496233578
224 pages

---