Laura Villareal
---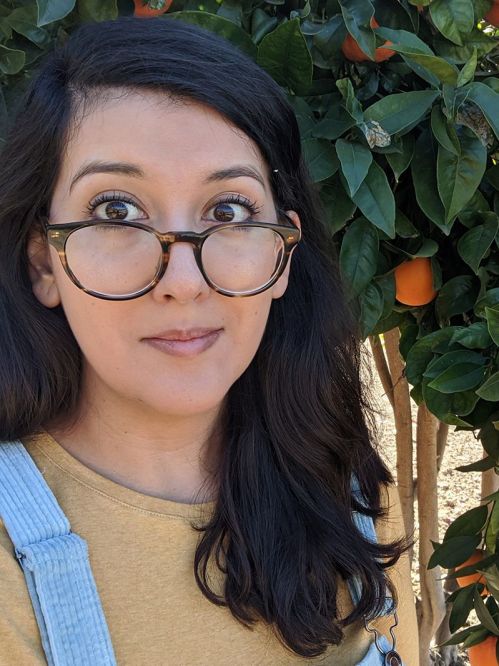 Laura Villareal is a poet from a small town in Texas. She earned her M.F.A. at Rutgers University—Newark. Her debut poetry collection, "Girl's Guide to Leaving," was published by the University of Wisconsin Press in 2022. She also published a limited run chapbook titled "The Cartography of Sleep" with Nostrovia! Press. Her writing has been supported by fellowships and scholarships from the Stadler Center for Poetry and Literary Arts, National Book Critics Circle's Emerging Critics Program, Bread Loaf Writers' Conference and the Dobie Paisano Fellowship Program at the University of Texas-Austin. Her writing has appeared in Guernica, AGNI, The American Poetry Review and elsewhere.
Visit website |
Communities: LGBTQ+, Hispanic or Latinx
---
Multi-Generational Latina Poetry
Poetry icon Lorna Dee Cervantes joins emerging poets Leticia del Toro and Laura Villareal for a reading and plática about Latina poetics, memory and cultural exploration.
Student Union Kiva (Seats 100)

Sat, Mar 4, 4:00 pm - 5:00 pm
Poetry
Signing area: Sales & Signing Area - UA Bookstore, Main Floor (following presentation)

Panelists:
Lorna Cervantes
,
Leticia del Toro
,
Laura Villareal
Moderator: Estella Gonzalez
Leaving, Loving, and Returning Home through Poetry
Join poets Laura Villareal, Jose Olivarez and Cynthia Guardado as they explore poetry's ability to restore a sense of home and heal the traumatic legacies of exile and the domestic violence.
Student Union Kiva (Seats 100)

Sun, Mar 5, 11:30 am - 12:30 pm
Poetry
Signing area: Sales & Signing Area - UA Bookstore, Main Floor (following presentation)

Panelists:
Cynthia Guardado
,
José Olivarez
,
Laura Villareal
Moderator: Paola Valenzuela
---
Book:
Girl's Guide to Leaving
Poetry
University of Wisconsin Press
January 2022
ISBN 9780299336844
80 pages

---