Border Community Alliance
---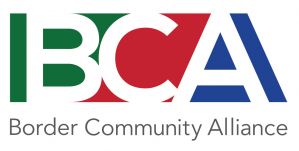 The BCA is bridging the border and fostering community through education, collaboration and cultural exchange in the borderlands region of Southern Arizona/Sonora, Mexico. We accomplish this through cross-border educational events, social service projects, and cultural exchanges such as: partnerships with Arizona and Sonora-based community foundations and organizations.
• cross-border tours
• borderlands forum classes and events
• a college-level summer internship program
• online Spanish lessons with Mexico-based native speakers
• an online book, literature and film group
• monthly publications and newsletters
Proceeds from BCA's nonprofit programming go directly to support borderlands society projects to build stronger communities.
---