4Tucson
---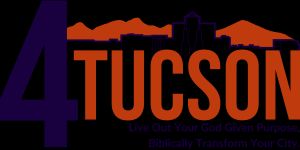 4Tucson's mission is to unite and mobilize Christians, empowering them to put biblical principles into action as we engage our city's most systemic problems.
Media and Art shapes and influence how people think about a particular subject or issue. At 4Tucson we believe in supporting Christians in media and art to elevate a Christian Worldview.
This year at 2023 Tucson Festival of Books 4Tucson has partnered with 4 Christian local authors to participate as an exhibitor to showcase the literary talent of our partners. Join us as we celebrate Christian literature with four featured authors Dr. Deb Waterbury, Dave Drum, Rod Robison, and Marlon Harmon.
Visit our website |

---