Enter the Young Authors and Artists Contests!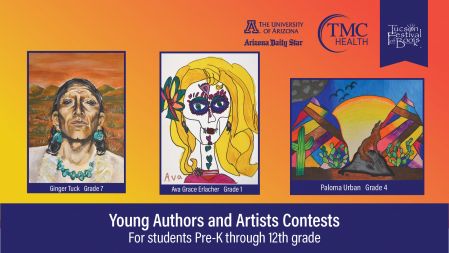 No charge to enter
Original writing and artwork
Winners receive $100 in gift certificates and will be recognized at the 14th Annual Tucson Festival of Books on Saturday, March 4, 2022.
Deadline is Thursday, December 15th, 2022 by 4:30 p.m.
Author entries may be submitted by mail or e-mail. Poetry will be judged separately.
Artist entries can only be mailed, or can be hand-delivered with special permission.
Art supply scholarships are available for participating schools. For more information, please contact childrens@tucsonfestivalofbooks.org
Application for Young Artists Competition sponsored by Friends of Western Art. Entries may be mailed to or dropped off at Make Way for Books, 700 N. Stone Ave., Tucson, AZ 85705.
Application for Young Authors Competition sponsored by Altrusa International of Tucson. Entries must be emailed to young_authors@yahoo.com or mailed to Altrusa International of Tucson, Inc., PO Box 42801 Tucson, AZ 85733.