Literary Award Winners 2023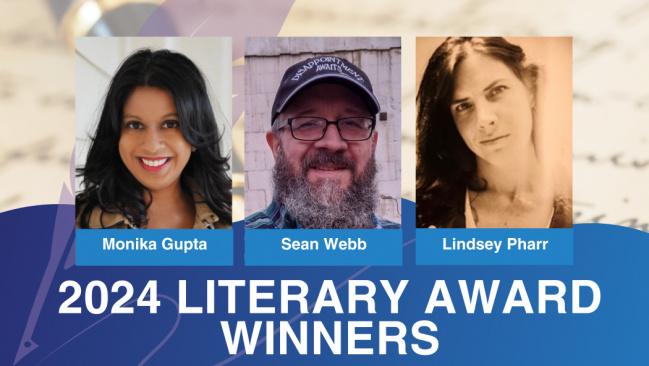 FICTION Judge: Juan Martinez
First place: "Body Memory" by Kathleen Furin, Philadelphia PA
Kathleen Furin has an MSW from Temple University and an MFA from New York University. She is the recipient of the 2022 Eludia award from Hidden River Arts for her story collection Last Sunrise, which is forthcoming from Sowilo Press. She has published work in Permafrost Magazine, Evanescent, Philadelphia Stories, Literary Mama, Mutha Magazine, and Midwifery Today, and has work forthcoming in American Literary Review. Her work has been recognized with Honorable Mentions from Glimmer Train Press and the Yeo writing prize. She works as a diversity consultant for Just Strategies and is an Author Accelerator certified book coach.
Judge: "What a compassionate, heartfelt, urgent piece. I loved how the writer cut right to a deeply felt emotional core, all while allowing for a compassionate ambiguity around relationships, money, and illness. Just excellent."
Second place: "Anchor Aweigh" by Anna Bergquist, Medford MA
Anna Bergquist is a writer and current MFA Fiction student at the University of Massachusetts-Boston. She also works as a content and development assistant at Consequence literary magazine. You can find her on Twitter @ACBergquist.
Judge: "Anchor Aweigh is a story that makes so much good use of its setting and character dynamics to shed unexpected light on a familiar situation. Beautifully written, too."
Third place: "Sun Damage" by Thea Chacamaty, Portland OR
Thea Chacamaty earned her MFA from the University of Michigan in 2019, where she was also a 2019-2020 Zell Fellow. Her fiction has appeared in the Missouri Review and received the Henfield Prize, a Hopwood Award, the Kasdan Scholarship. She has also received scholarships to the Bread Loaf Writers' Conference and Writing by Writers. She is at work on a short story collection and a novel.
Judge: "Sun Damage is a story that does so much with its workplace setting and with its compelling protagonist — the story does so much to humanize everyone in it while being true to the self-imposed and societal challenges faced by someone trying to start anew."
NONFICTION Judge: Priyanka Kumar
First place: "Sugaring: A Memoir" by Jen Parsons, Telluride CO
Jen Parsons is a skier, hiker, and sometimes coach. She has been published in Modern Loss, the Telluride Daily Planet, and Telluride Magazine. She has received grants from the Telluride Arts District and been a finalist twice in the Erma Bombeck Writers-In-Residence program; she's currently polishing a memoir she developed through the Writing by Writers two-year DRAFT program. She's received a Writing by Writers residency to work in a colony barn in Palmer, Alaska, and at the Wellstone Center in the Redwoods.
Judge: "A work that is raw with grief, love, and doubt."
Second place: "Proxemics" by Jonathan Gleason, Columbus OH
Jonathan Gleason is an essayist, medical interpreter, and recent MFA graduate from the University of Iowa. Currently, he is working on a collection of essays about medicine and illness, which was shortlisted for the Graywolf Press Nonfiction Prize and a finalist for the Miami Book Fair Emerging Writers Fellowship. His work has appeared or is forthcoming in The Literary Hub, The New England Review, Kenyon Review, Colorado Review, and others.
Judge: Awarded "For the compelling way in which history and philosophy is woven into the work."
Third place: "Malinche's Legacy" by Marianna Marlowe, Ross CA
Marianna Marlowe is a Latinx writer who lives in the San Francisco Bay Area. After devoting years to academic writing, her focus now is creative nonfiction that explores issues of gender identity, feminism, cultural hybridity, intersectionality, and more. Her short memoir has been published in Narrative, Hippocampus, The Woven Tale Press, Eclectica, Sukoon, and The Acentos Review, among others. She is currently at work on a memoir in essays titled Portrait of a Feminist.
Judge: Awarded "For work that explores the impossibility of having a single identity."
POETRY Judge: Allison Adelle Hedge Coke
First place: "A Fat Encyclopedia of Astounding Mistakes" and other poems by Valentina Gnup, Oakland CA
Valentina Gnup received her MFA in Creative Writing from Antioch University Los Angeles in 2002. In 2019 she won the Lascaux Prize in Poetry; in 2015 she won the Rattle Reader's Choice Award; in 2011 she won the Barbara Mandigo Kelly Peace Poetry Award from the Nuclear Age Peace Foundation; and in 2009 she won the Joy Harjo Poetry Award from Cutthroat, Journal of the Arts. Her poems have appeared in many literary journals including December, Brooklyn Review, Nimrod, and The New Guard. She is a reader for Five South literary journal.
Judge: "Intimate narrative provides welcome journeys through places and time and captivates the reader with succinct and profound lingual command."
Second place: "Some Dark Corner" and other poems by John Spaulding, Tucson AZ
John Spaulding's work has appeared in more than fifty periodicals, including The Atlantic, Poetry, Prairie Schooner, and The Southern Review. His four published poetry books are The White Train, The Roses of Starvation, Hospital, and Walking in Stone. He was awarded the first Norma Millay Fellowship by the Millay Colony, and has been a Walt Whitman Award finalist, as well as a winner of the National Poetry Series. He holds a BA in English and drama from the University of Arizona as well as an MA in English literature and a Ph.D. in psychology from the UA. His MFA in poetry was awarded by Boston University. He served as a psychologist with the Indian Health Service for twenty years.
Judge: "The precise landing of surprise is so intricately placed within the clarity of witness, each delightfully refreshing."
Third place: "Something Useful" and other poems by Jonathan Fink, Pensacola FL
Jonathan Fink is Professor and Coordinator of Creative Writing at University of West Florida. He has published two books of poetry: The Crossing and Barbarossa: The German Invasion of the Soviet Union and the Siege of Leningrad. He has received the Editors' Prize in Poetry from The Missouri Review, the McGinnis-Ritchie Prize for Nonfiction/Essay from Southwest Review, the Porter Fleming Award in Poetry, and a fellowship from the National Endowment for the Arts. His poems and essays have appeared in The New York Times Magazine, Poetry, New England Review, and TriQuarterly, among other journals.
Judge: "The sense of lived experience is utterly rich in these terrifically rhythmic and wonderfully specific offerings of humanity at hand."