Mia Manansala (She/Her)
---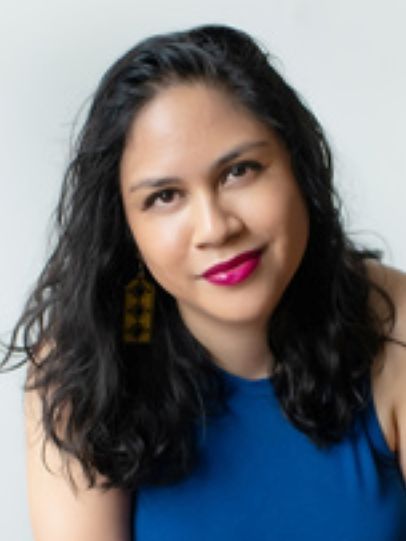 Jamilla Yip Photography
Mia P. Manansala (MAH-nahn-sah-lah) is a writer and book coach from Chicago who loves books, baking, and bad-ass women. She uses humor (and murder) to explore aspects of the Filipino diaspora, queerness and her millennial love for pop culture. "Blackmail and Bibingka" is her latest novel.
A lover of all things geeky, Manansala spends her days procrastibaking, playing video games, reading cozy mysteries and diverse romance, and cuddling her dogs Gumiho and Max Power.
Awards: Macavity Award, Anthony Award, Agatha Award
Communities: LGBTQ+, Asian American
---
A Vacation to Die For
Meet Ellery Adams, Amina Akhtar and Mia Manansala, whose books describe vacations and celebrations gone wrong. Very, very wrong.
Student Union Sabino (Seats 87)

Sat, Mar 4, 11:30 am - 12:30 pm
Mystery / Thrillers
Signing area: Sales & Signing Area - UA BookStore Tent (on Mall) (following presentation)

Panelists:
Ellery Adams
,
Amina Akhtar
,
Mia Manansala
Moderator: Iona Whishaw
Mia Manansala
"Blackmail and Bibingka": When her long-lost cousin comes back to town just in time for the holidays, Lila Macapagal knows that big trouble can't be far behind in this new mystery by Mia P. Manansala, author of "Arsenic and Adobo".
Mostly Books, Booth #241 (Seats 1)
Sat, Mar 4, 3:30 pm - 4:00 pm
Mystery / Thrillers
Author:
Mia Manansala
Three Ways to Look at Food
As our authors will prove here this morning, there are lots of ways to look at food ... and food writing. In this session, we'll choose from a menu that includes books by a historian, a biographer, and a writer of mysteries. Mmmmm, good!
UA Mall Tent (Seats 250)

Sun, Mar 5, 10:00 am - 11:00 am
Multigenre
Signing area: Sales & Signing Area - Central Mall (following presentation)

Panelists:
Mia Manansala
,
Alex Prud'homme
,
Lizzie Stark
Moderator: Edie Jarolim
---
Books:
Blackmail and Bibingka
Mystery / Thrillers
Penguin
January 2022
ISBN 9780593201718
288 pages

---
Homicide and Halo-Halo
Mystery / Thrillers
Penguin
January 2022
ISBN 9780593201695
304 pages

---